start of prefixes
end of prefixes
start of suffixes
Manufacturer: Bushiroad
Release Year: July 15, 2022
Box Size (Approximately): 6 inches x 1.5 inches x 5.5 inches
Item Number: B8885009406822
Join Bell Cranel, a young adventurer with a thirst to get stronger!
With the help of his goddess Hestia, what adventures await him as he ventures to the Dungeon in search of money, fame, glory, and girls? Join his expedition with Is It Wrong to Try to Pick Up Girls in a Dungeon?, now coming to Weiß Schwarz!
The cards in this Booster Pack may be used together with cards that have card numbers beginning with 「DDM/」
9 cards per pack, 16 packs per display
18 displays per carton
1 of 4 exclusive PR cards in every display box!
100 types of cards + 35 types (Parallel)
| | |
| --- | --- |
| SP (Special) | 7 |
| RRR (Triple Rare) | 8 |
| SR (Super Rare) | 20 |
| RR (Double Rare) | 10 |
| R (Rare) | 22 |
| U (Uncommon) | 28 |
| C (Common) | 28 |
| CR (Climax Rare) | 4 |
| CC (Climax Common) | 8 |
SIGNED CARDS
Every pack you purchase has a chance to contain a hot stamped autographed card by the following members of the cast:
◆ Yoshitsugu Matsuoka as Bell Cranel
◆ Inori Minase as Hestia
◆ Saori Oonishi as Ais Wallenstein
◆ Maaya Uchida as Liliruca Arde
◆ Haruka Tomatsu as Eina Tulle
◆ Shizuka Ishigami as Syr Flova
◆ Saori Hayami as Ryu Lion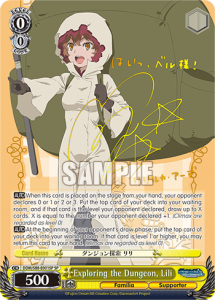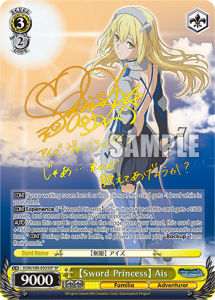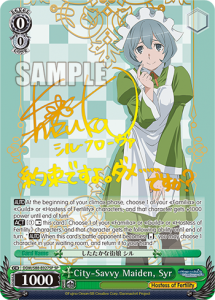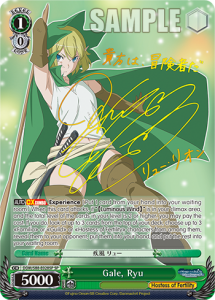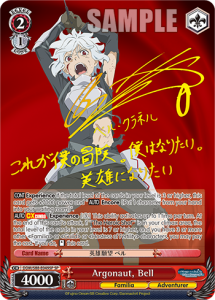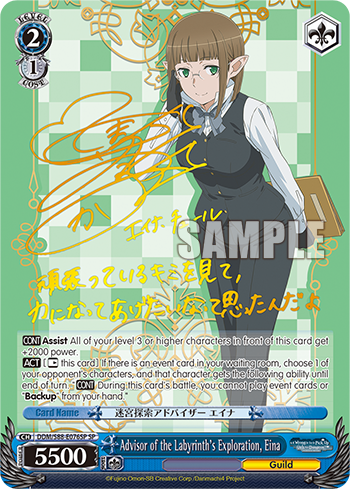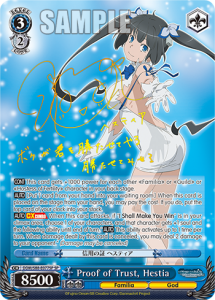 end of suffixes