[EVENT TERIMINATION]


7:00pm
JUNGLE 01 (319 East 2nd Street #103, LA, CA, 90012)
---
Admisstion
---
Free with purchase of LADYBABY merch
---
UPDATE IMPORTANT NOTICE
---
1) In order to attend this event, you have to purchase any of LADYBABY's merchandise or Clearstone Costumes such as Kigurumi or school uniform at Jungle Zero to receive a wristband. (Jungle Zero store opens at 5:30pm)
2) Once you get a wristband, you will form a line and we can let in first 200 people for sure and depending on how crowded the store will be, we will be able to let in more people. However, even if you cannot get in during the event, as long as you're in that line with your wristband, you will have a photo opportunity with LADYBABY after the event.
---
CONTENTS
---
– Opening Set by DJ Monika Starling
– LADYBABY Mini Concert
– LADYBABY Talk Show
– Photo Opportunity w/ LADYBABY (Free with purchase of LADYBABY merchandises)
– Halloween Themed Fashion Show
More details would be announced soon so mark your calendar and join our Halloween time with LADYBABY!!!
---
Facebook Event Page
---
LADYBABY Mini Concert + Meet & Greet
---
LADYBABY
---
Ladybaby is a group from Japan that mixes the sound of J-Pop and heavy metal into a genre called "KAWAIICORE." LadyBaby was formed by LadyBeard, a cross-dressing Australian wrestler, and 2 other Japanese teenage girls, Rie Kaneko and Rei Kuromiya, in order to promote the Japanese costume company, Clearstone. Soon after they released their shockingly kawaii music video on Youtube, they hit 5 million views in only 2 weeks. LADYBABY is about to take over the world beyond the boundaries of national borders, gender, and all generations in the most "kawaii" way possible!
---
Facebook Event Page
---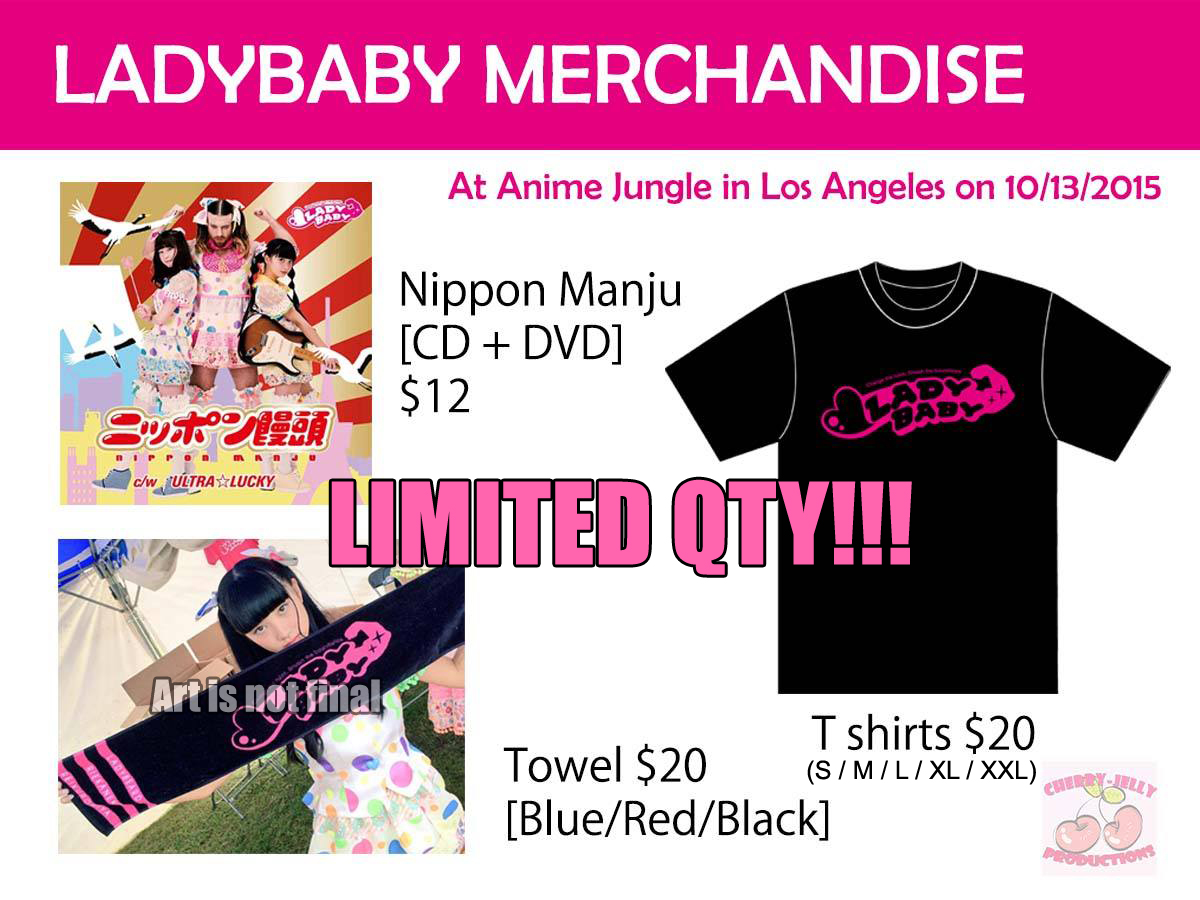 ---
Hosted by
---
Chelly-Jelly Productions
http://www.facebook.com/ CherryJellyProductions
Anime Jungle
https://www.facebook.com/ animejungle.LA
---
Review
---